So I bought a Core Grafx machine, and it's really nice. It has composite output which is of course better than the RF-only white PC-Engine, however they all have that big expansion port on the back, which has both audio AND RGB signals in it, so somehow getting that turned into a SCART plug seemed a no-brainer. There are many boards on eBay and the likes, that do something with this port, giving composite video, giving RGB and so on, in different packages. Most of them are quite big, expensive and/or complex. I thought it would make sense to try to make a simplified version that was as small as possible, so I came up with this: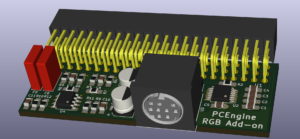 This is a 3D render of KiCad project. It is based on the popular THS7374 4-channel video amp, which amplifies RGB and composite, while sync goes through a 75Ohm resistor. The audio which is rather low, is amplified by a TS922A opamp. All this is then collected in a SEGA MegaDrive/Genesis 2 compatible 9-pin Mini-DIN plug, for which RGB SCART cables can be bought cheap on eBay. The cable should contain at least some 75Ohm resistors on the video lines (which the cables *should* have as the MD2/Genesis2 requires it) and 220uF or higher caps are also recommended, again they should be there. There's a jumper behind the DIN plug to enable the filters of the THS7374, for a softer image if that is preferred. The large 69 pin plug is a Samtec SSQ-123-02-T-T-RA connector (which is quite hard to come by) and that can be substituted for whatever 2.54mm pitch 3-row female socket you can find, its only the left 6 pins (2×3) and right 9 pins that are used, rest are all kinds of unused stuff for this. The finished assembled unit looks like this: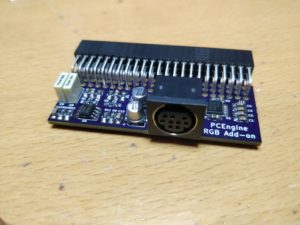 And attached to the Core Grafx: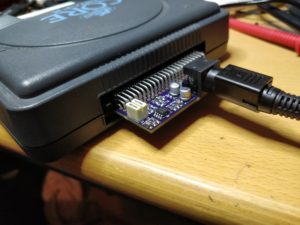 Here's some pics of the unit attached to a JVC TM-H1950CG, but to be honest, my shitty phone camera does not do it justice, the colors are *really* nice, really much more vibrant than this shows…
Board with parts list here on OSH Park.
KiCAD project here.
Update
Since the board just sits by the pins, it is rather poorly mechanically attached. I therefore designed this small 3D printable bracket to insert into the PC Engine expansion port to relieve the mechanical strain on the unit, and secure the PCB better.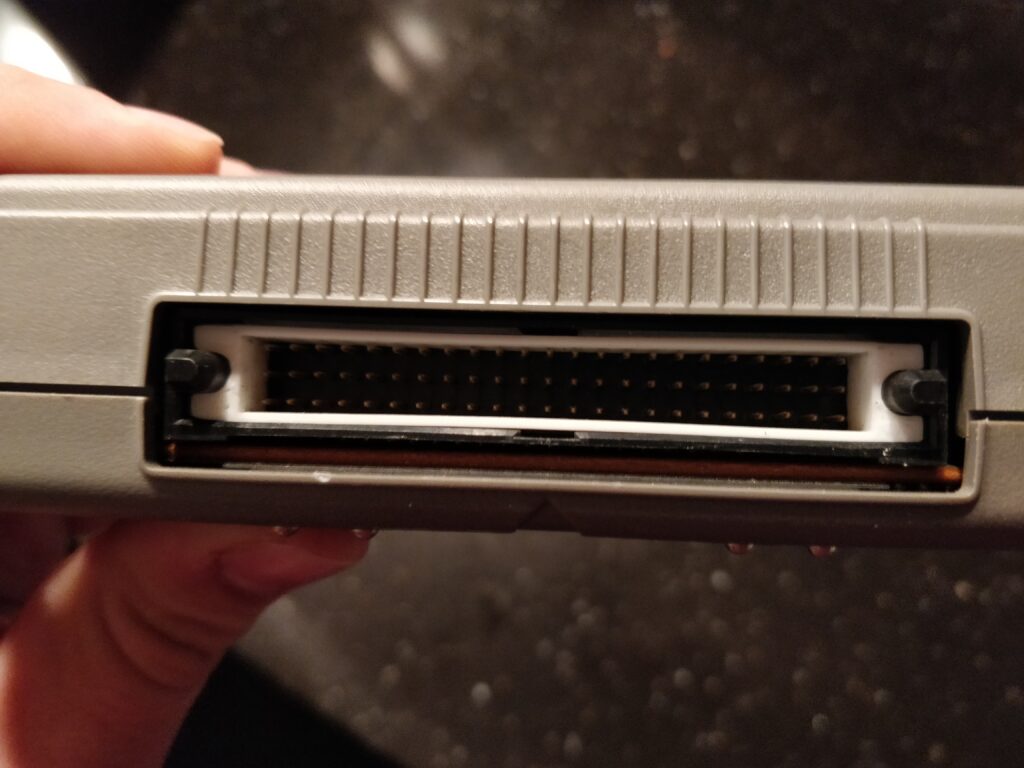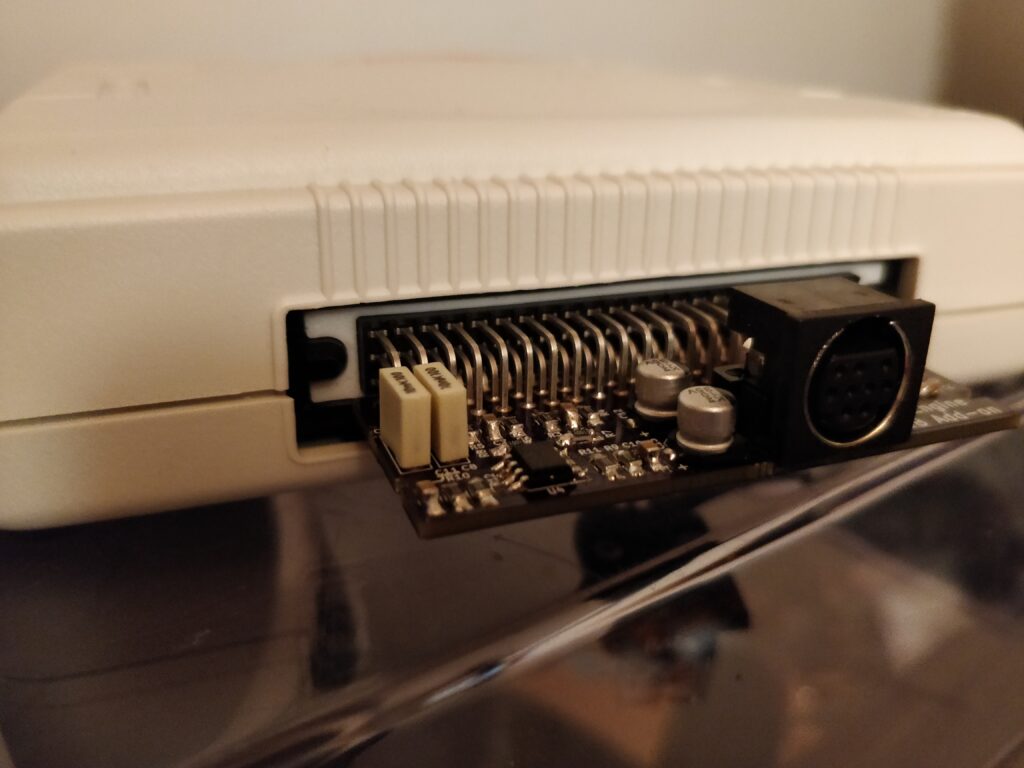 Download 3D files here (Thingiverse)